Au Refining, Inc. processes scrap precious metals from other industries including:
Healthcare
Electronic
Manufacturing & Fabrication
Laboratory
and any other industry producing scrap precious metals. Please contact us with the specifics of your refining needs and we will develop a customized program that best suits your application and your desired outcome.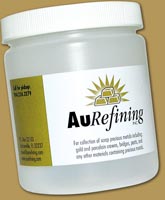 Contact us today to get your FREE container!
Once the jar is full, call us back and one of our trained staff will come pick up and weigh the materials on-site. Call (904) 234-3279 today.
We turn your scrap gold into cash.
Au Refining, Inc. recovers scrap precious metals for the dental community. We offer you an easy way to make money from the dental waste you encounter every day. Just call us at (904) 234-3279 and we will send you an airtight container to store your scrap materials in until you schedule a pickup. Simply place your scrap precious metals into the container and we handle everything else. We are professional, honest and service minded offering a safe and profitable way to dispose of your precious metals. Turn your scrap into cash today.
The process is simple and easy.
Materials are accumulated in an Au Refining, Inc. container.
Arrangements are made for pickup. Materials are weighed on-site.
Porcelain and tooth matter are separated from the metals at Au Refining, Inc.'s facility.
Net metal weight is determined for accountability.
Materials are shipped to the refiner for assay of metal content.
Au Refining, Inc. pays customer for materials based on metal content.
The result is easy money. Collect the "Found Money" associated with your scrap today!
Our reputation is well deserved.
Steve Mizrahi incorporated Au Refining, Inc. in Jacksonville, Florida in 2002. Our mission is to serve our customers in an honest fashion, with excellent service, and give them a fair return on their scrap precious metals. We have over fifteen years of experience in the precious metals industry. Our commitment to service excellence has been the foundation of our business. Honest, trustworthy and reliable, we provide impressive returns with turnkey services and make it easy to turn a pile of old crowns and bridges into a pile of money.
Get started now. It's easy and FREE.
It's easy to get started. Just call us or go to the Contact Us tab to request a free Au Refining Collection Jar. Once you have a nice accumulation, call us and one of our trained staff will come to your facility to weigh the materials on-site and begin the tracking process. This step starts our process which is monitored at all times to ensure accountability. Call (904) 234-3279 today to get started.
Shipping & Handling Procedures
All scrap metal waste should be stored in the "sharps like" container provided to you by Au Refining, Inc.
Do not put tooth matter that does not contain metals for reclamation into the container as this material is classified a biomedical waste. Any tooth matter without metal content is regulated as a medical waste and should not be placed into the same container of tooth matter containing precious metals.
For decontamination, a 1:10 bleach:water solution is recommended. Make sure to completely immerse the materials in solution. As a note, bleach solution has a half-life – it loses strength over time. Therefore, it is recommended to change the solution every week, or two, to maintain the proper concentration for decontamination to occur.
Contact Au Refining, Inc. to request a pickup or for shipping details. Just call us at 904-234-3279, or send an email to steve@aurefining.com. When using email, make sure to request a "read receipt" so you can get an automated confirmation that we received your request.
We handle everything else.
If you have any questions before or during the refining process, we are one phone call away from giving you the information you need. We look forward to serving you – we consider it an honor and a privilege that you entrust us with your materials.
It is our commitment to make you happy
and keep you happy.